GATE will be an event for more than 1500 people, which inevitably means that it becomes a covid safe event. This means that, once inside, everyone we will be able to party and enjoy music like we used to, without masks, without social distancing, without worries. However, to get inside, you will need to folllow these directions:

OR get tested at the festival. All info here.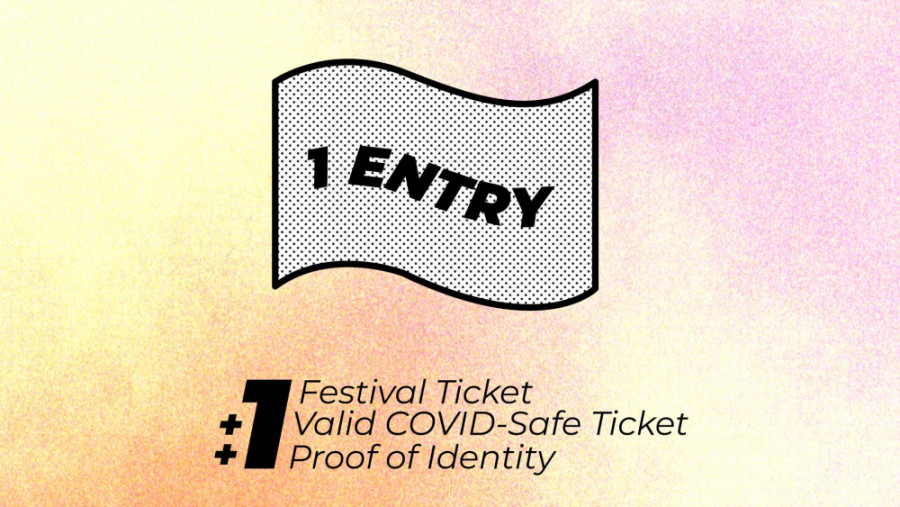 GATE will be a COVID SAFE EVENT. This implies that every visitor older than 12 years, will have to present a valid festival ticket, a COVID SAFE TICKET and a proof of identification.
What is the Covid Safe Ticket ?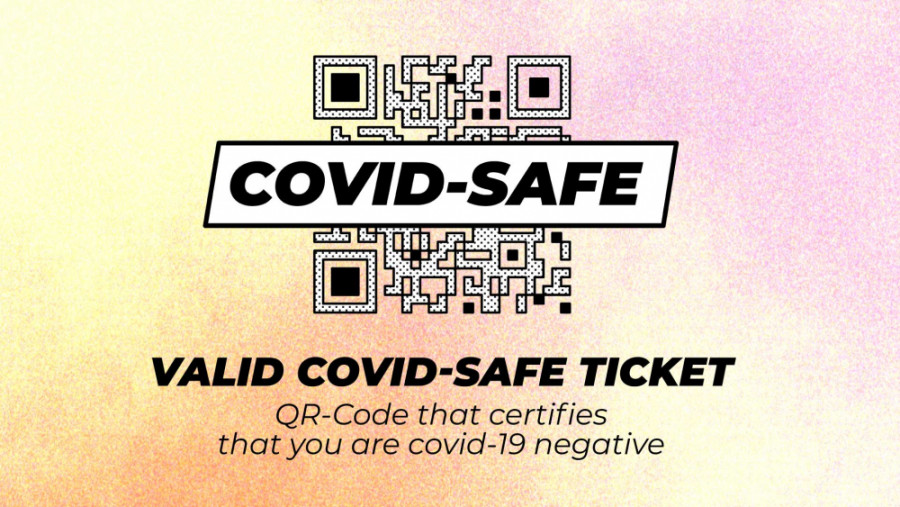 The Covid Safe Ticket certifies that you are 'negative' for Covid-19, that you do not present a risk to the rest of the public, that you will not infect anyone on site. This Covid Safe Ticket is personal and consultable via a QR-Code.

For people who aren't residing in Belgium, this is the European digital certificate available at national level.
Conditions for a valid COVID SAFE TICKET?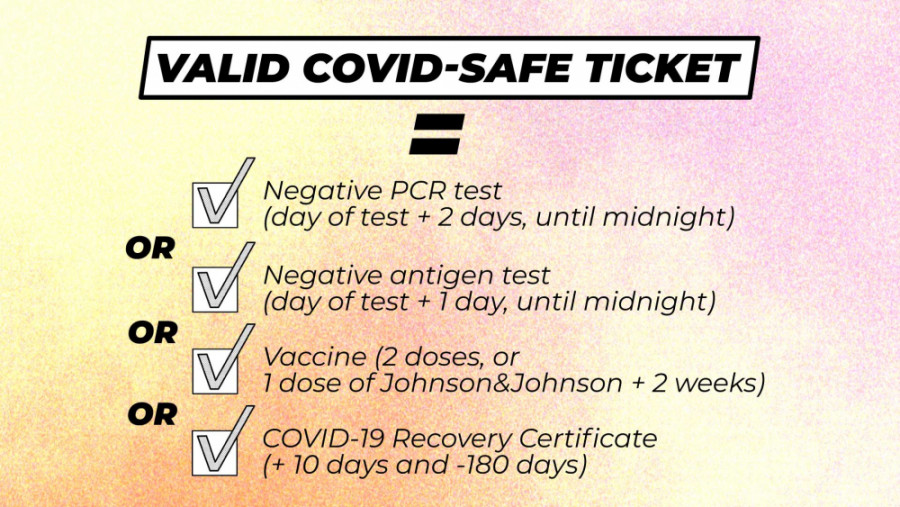 Vaccination.
You are considered to be fully vaccinated 2 weeks after the second injection of a 2-dose vaccine (Pfizer, Moderna or Astrazeneca) or the injection of a 1-dose vaccine (Johnson & Johnson).

Test
- A PCR test with a negative result that has been taken less than 48h before the festival. (Day of test + 2 Days = OK)
- An antigen test (RAT) with a negative result that has been taken less than 24h before the festival. (Day of test + 1 Day = OK)

The two free PCR tests to which Belgians are entitled are also valid for participating in an event such as GATE. A free PCR test must be requested maximum 10 days before the test itself. All info here.

A COVID-19 recovery certificate. This certificate shows that you are cured of Covid-19 after a previous positive test that was more than 10 days old and less than 6 months old.
ATTENTION:
Self-tests are not valid.
If the result of your test is positive, do not come over.
If you do not have a valid Covis Safe Ticket, do not come over.
If you are in quarantine after returning from a red zone, stay in quarantine!
If you feel bad and you have symptoms of Covid-19, take a test. Positive? Do not come over!
How do I obtain the Covid Safe ticket?
The festival doesn't provide your Covid Safe ticket. However, the festival will also test people without COVID SAFE TICKET.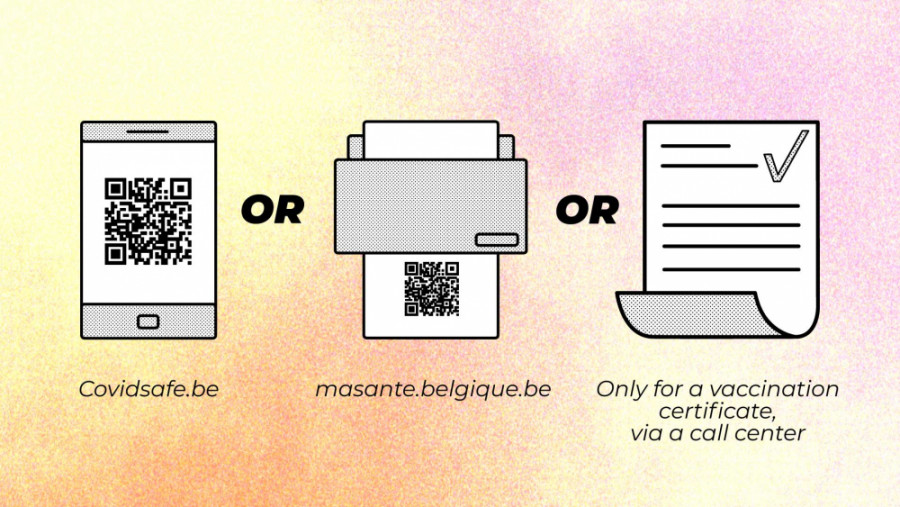 For people with a smartphone: download the CovidSafeBE application on covidsafe.be or via your smartphone store. Activation of this application requires connection to eHealth or Itsme. Tip: don't do it the day before.

For people who do not have a smartphone: the Covid Safe Ticket can be downloaded online in PDF format and then printed, via masante.belgique.be.

For people who do not have a smartphone and are fully vaccinated: possibility of postal delivery of the vaccination certificate via the following regional call centers:
Wallonia: +32 71/31 34 93
Brussels: +32 2/214 19 19
Flanders: +32 78/78 78 50
Covid Safe ticket Control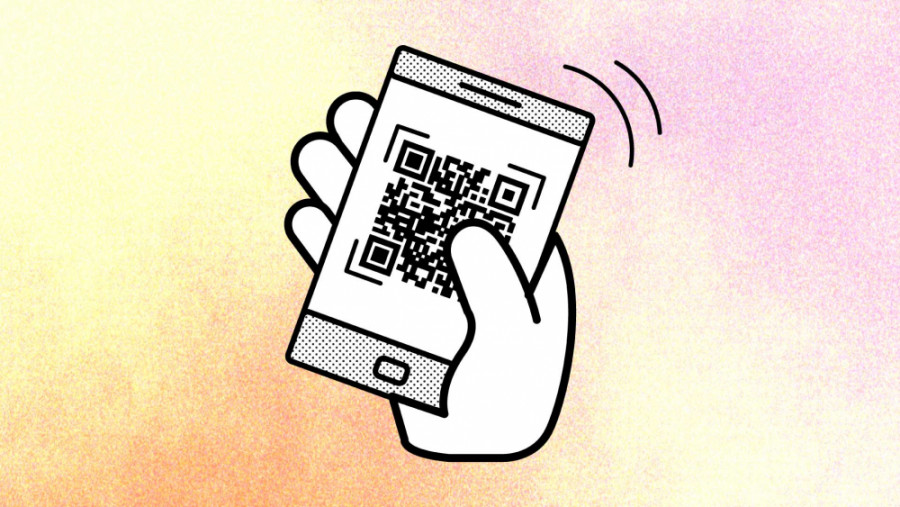 COVID SCAN: Your Covid Safe Ticket will be scanned at the entrance to the festival, Rue de La Petite-Ile 1, 1070 Anderlecht. You will also be required to provide identification to ensure that your Covid Safe Ticket matches your identity. For people not residing in Belgium, we will scan your national application on which you will have previously downloaded a valid Covid Safe Ticket.
In this control area, the sanitary measures in force (wearing a mask, distance, disinfection of the hands, etc.) apply.
With a valid Covid Safe Ticket, you will be able to enter the "Safety bubble" inside GATE. In this area, the risk of Covid-19 contamination will therefore be extremely reduced. In this area, wearing a mask, distance, and sitting in a small group are not mandatory. We're sort of 'a festival like it used to be'.
Every time you leave the festival, you will have to go through the Covid Safe Ticket control again at the entrance. As of midnight, all exits are final.
Positive test just before the festival?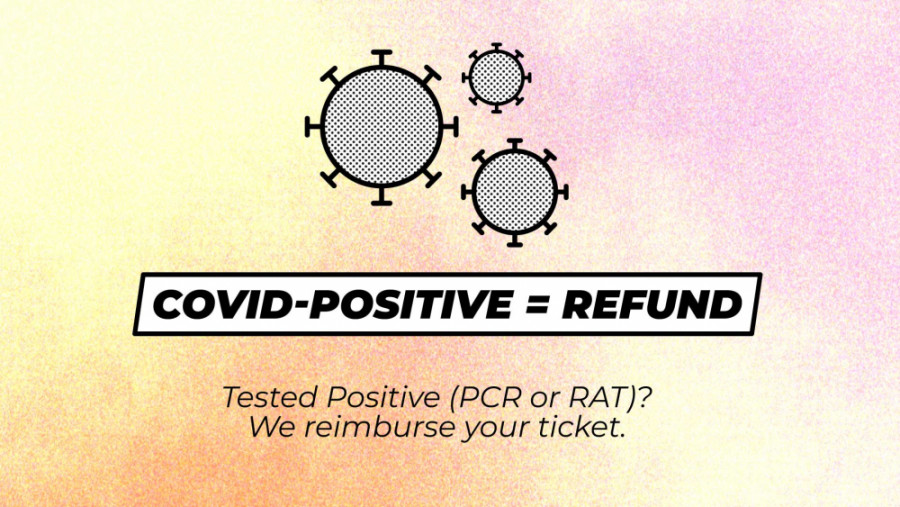 If you test positive for Covid-19 less than 48 hours (PCR) or 24 hours (RAT) before your festival visit, we invite you not to come to the festival entrance, but we will refund your entry.
Even if you have an entrance ticket to the festival, you will not be able to get in.
To request a refund of your festival ticket, you will need to send us an email to festival@couleurcafe.org. Please note: This email must contain your full contact details (last name + first name + telephone + email), your purchase order number, your bank account number and proof of your positive PCR-test. No other reason for reimbursement will be accepted.
Attention:
The costs of obtaining certificates and/or tests shall be borne entirely by the festival-goer and may never be recovered in part or in full from the GATE organisation.
Inability or unwillingness to present a valid, officially recognized (digital) certificate, as specified above, does not entitle the holder to cancellation, compensation or reimbursement, regardless of whether they are in possession of a valid entry ticket.
It is each individual visitor's responsibility to know and comply with the most recent and applicable rules, regulations and guidelines concerning the festival visit at all times, as well as to check them on the festival's official website before each entry to the festival: gate.couleurcafe.be.
By agreeing to the General Terms and Conditions, you, as a consumer, explicitly and unconditionally declare that you have taken note of and agree with this information about the Covid measures.
In the case of cancellation of the event, the ticket price, excluding service and administration fees, will be refunded to the person or company that issued the order.
More questions?
If you still have questions, do not hesitate to send us an email at festival@couleurcafe.org.